Coach Profile - ITRIED2WARNU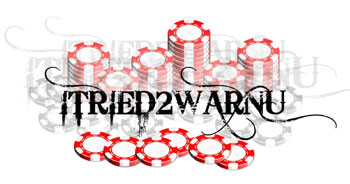 About Me: My name is Brent and I have been playing poker for around eight years.  My primary games are: Heads-Up Sit-N-Go's, $3/$6 NL (6 max), and high stakes multi table tournaments.  I began by playing live tournaments with friends and $5 single table sit-n-go's on Party Poker and have played across a few sites over the years.  I now primarily play $220-$550 HUSNG's on Full Tilt and Poker Stars.  I am also sponsored by Shodown Couture, which is a really creative and stylish clothing line for poker players.  You can view our website here. 
Here are my stats as of September 1st, 2010: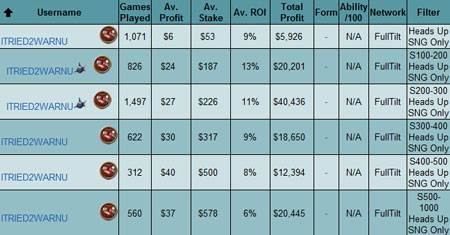 Video Review:  This would include hand histories of your play being sent to me, and I will import it into a hand history re-player. Next, I will record the hands playing out with my narration of thoughts, leaks, changes to make, and general feedback.  I would then upload this to the internet for you to download and you will have the benefit of saving it to your hard drive and keeping it.
Video Review posted on HUSNG.com: The same format as above, except discounted to $75 (from $120) for one total hour of final leakfinder video.

Live Sweat Session Review:  This form of coaching would include me watching your tournament(s) through team-viewer (free program), and I would discuss each play/hand with you (live chat with microphone via MSN, Skype, etc - also free).
 
Hand History Review:  This option will include your hands being sent to me (same as above) but instead of a video review, I will read through each hand and write out my thoughts, leaks, changes to make, and general feedback in text form that will be written up in a word document or e-mail.  (I would require that these are full length games with each hand included consecutively that way player tendencies, styles, etc could be included.)
 
What you will get:  Since so many things are discussed throughout each session, I expect students to forget some of the key aspects or topics discussed.  For that reason, I record both the audio and video from each session and then send them to you for reference.  This way you have something tangible and concrete to refer to in the future, and are able to re-watch the sessions so that each area is easier to implement into your game.  
 
Contact:  E-mail me at ITRIED2WARNU@gmail.com

Follow me on Twitter:  http://twitter.com/itried2warnu  
Rates:  I charge a flat rate of $120/hr, and do have bulk packages/rates available for multiple hours.  Please contact me by e-mail to discuss which options would be best for you.
 
Testimonials from previous students: 
Jason
"Brent reviewed two games that I played against a higher stakes villain.  Before starting, he asked me to choose 3 things that I would like to work on and he incorporated that in our 3 hour review session.  When you pay for coaching from Brent, you receive a copy of the coaching session (video and audio) which allows students to review things that they might not understand the first time during their coaching session which is an added benefit.  Brent is very, VERY thorough and he clearly communicates his thought process.  He's also not afraid to give you his honest opinion if he thinks you are playing scared (constructive criticism works!).  I would highly recommend working with him if you are serious about getting better and for the price; it's a bargain for a player of his caliber. "
 
Mark/Masp797
"I am a mid to high stakes MTTer who has made the transition to playing mid to high stakes heads-up SNGs, playing poker as my sole source of income. Brent's advice and videos has not just helped correct crucial mistakes in my own play that were costing me equity, but has also aided me in terms of finding more opportunities to make the best adjustments to my opponents even in today's heavily evolved HU Metagame.  With his experience in all forms of Hold'Em (MTT/HU/SNGS/cash), I can definitely say from experience that whatever your stakes or style, Brent's poker tutelage will not just boost your HU skills but also your overall grasp of the game."
Ilia
"Thanks to Brent, I am much better player now.  This guy is constantly expanding your thought process step by step, not pushing everything at once, and that makes it really helpful.  With him as my coach, my view for the game has changed a lot and now and I consider him even a better player than before.  What is really important is that he will tell you if you have made a mistake – he doesn't miss anything, no matter how small it is. The perfect coach!"
Eirik
"I recently purchased 4 coaching hours from ITRIED2WARNU.  He was very helpful and nice when trying to find out what kind of coaching would suit me best.  We agreed on doing a video review first and then discussing it afterwards.  The video I received was very helpful and pointed out both big and small leaks of mine.  He is very good at explaining why things should be done differently, and he makes it easy to understand his thought process.  During the process he was often available on AIM and always answered quickly, whether it was technical questions regarding video recording or other concerns. I highly recommend him to anyone who seeks coaching."
Gregor
"Brent made a video hand-history review for me and I found his analysis of the match to be very methodical and thorough. He clearly has an excellent poker mind and has a great ability to communicate a lot of information in a coherent and easily digestible way. His analytical and communication skills are fantastic and coupled with top notch poker ability I would highly recommend working with him if you want to seriously develop your game."
Steve (Marois76)
"Brent is a great poker mind and a great coach. When you start coaching with him, you can immediately feel that he has a real will to help as much as possible. He can find your leaks very quickly and considering his great results and good logic, you know you can trust what he says. Definitely a very good coach, that I'm happy to have chosen."