Chadders Hyper Turbo Heads Up Video Series Information
Welcome to the Hyper Turbo Video Series Information Page
The Chadders Hyper Turbo Video Series is a special package brought to by HUSNG.com. The aim of the package is to give players everything they need to be successful in the popular hyper turbo heads up SNG games offered on the world's largest online poker rooms. Whether the title is super turbos, hyper turbos or ultra turbos, this video package has all the information and tools you need to begin beating these games today.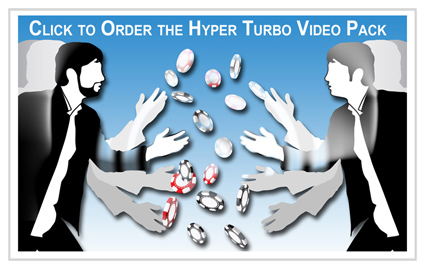 About the Author
Richard "Chadders0" Chadwick is one of the most respected and successful $60 level hyper turbo professionals. The UK player has been a consistent winner in this heads up format, working hard at the tables throughout 2011, with the help of players such as JackTheShipper and Mersenneary. He also has a degree in mathematics from Edinburgh University.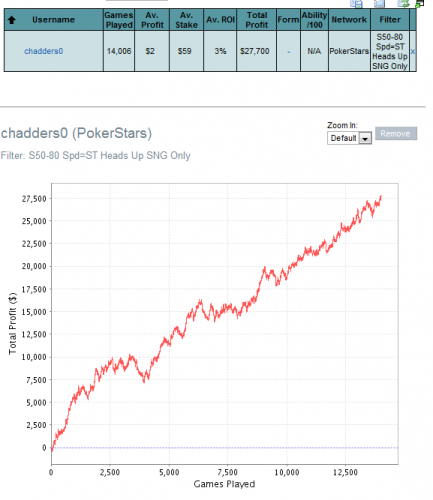 About the Series
From the very first hand of the match to essential concepts such as 3-bet play, double and triple barreling, hand reading, stack sizes and more, the Hyper Turbo Video Series arms you with all the information you need to succeed in hyper turbo heads up play. The series contains over 4 hours of valuable information which is broken down below.
Part 1: Introduction (11 minutes)
- Hyper turbo game structure
- Risk of ruin and variance
- Bankroll management
- Note taking
Part 2: The First Hand (27 minutes)
- Readless strategy
- Standard preflop ranges
- Optimal postflop play
Part 3: Pokertracker 3 (22 minutes)
- Getting the most out of your HUD
- Winrate analysis
- Postgame analysis
Part 4: Getting Shallow (18 minutes)
- Developing strategies for decreasing effective stacks
- Effective stack size impact on readless preflop ranges
- Incorporating limping ranges
- Minraise/call versus open shove
- Mersenneary's ROFL theory
Part 5: The 3-Bet Game (21 minutes)
- Complete guide to hyper turbo 3-bet strategy
- Optimal 3-bet strategy (all in and non all in)
- Dealing with non all in 3-bets
- Dealing with 3-bet shoves
Part 6: The Art Of Barreling (21 minutes)
- A guide on when to fire multiple bets with non showdown value hands
- Multiple street betting in raised pots and limped pots
- Multiple street betting in and out of position
Part 7: Grinding (Reg Wars)
- A 40 minute video exploring the strategies used to play against regular, higher level opponents
Part 8: Grinding (Sweat 1)
- A 30 minute video implementing concepts used against the average opponent
Part 9: Grinding (Sweat 2)
- A second 36 minute video against a typical opponent, explaining and implementing strategies players use everyday to defeat their opponents.
Part 10: 4 Table Review (31 minutes)
- A session review features Chadders 4 tabling hyper turbos.
- An explanation of the impact of preflop frequencies on postflop play.
- Concepts include 3betting, leading in limped pots out of position and focus leaks.
*Bonus Video* Part 11: HokieGreg Guest Super Turbo Video (27 minutes)
- HokieGreg plays two tables on the Merge Network's super turbo structure.
Reviews
Advanced copies of the video series were given to several esteemed professional hyper turbo players currently not involved with HUSNG.com. Their feedback is listed below.
"This is an excellent video series for aspiring hyper turbo professionals" - Serkules, Top PokerStars and Full Tilt Hyper Turbo Pro
"Impressive! Perfect for anybody who is learning and playing hyper turbos. A solid extension of Mersenneary's teachings." - Zakwray, $100-200 Hyper Turbo Pro
"A very complete guide that covers all of the fundamental topics needed to start beating hyper turbo husngs. The series has a good format and the information is well chosen and well explained."  - Betterways, $100-300 Hyper Turbo Pro
Pricing
The series is available for $150.
Premium HUSNG.com members get a $50 discount and can purchase the package for $100.